Our projects
Every three years the DPA consults members on a new three year Action Plan to decide priority projects for the coming period.
Our current projects include:
* Penthouses for parrots
* Environment and education centre concept plan
* History of the parklands and DPA
* Improve water quality
* Monitoring of dog areas
* Strategic revegetation
Download a copy of the DPA's three year Action Plan here.
Penthouses for parrots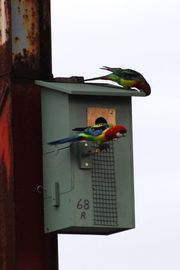 We have made and installed a large number of nest boxes to encourage the Eastern Rosellas to nest and rear their young in Darebin Parklands.  These beautiful native birds have been displaced due to land clearing and aggression from introduced birds such as the Indian Myna that forcefully take over available nest holes. In order to breed successfully, the Rosellas need to be safe from Indian Myna attack. We are currently experimenting with different nesting box designs specifically for the Eastern Rosella to encourage these beautiful birds to nest in the parklands and at the same time discourage the Indian Mynas. Some photos of the boxes in action are on the photos page.

Environment and education centre concept plan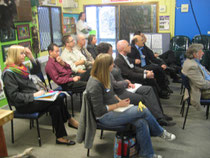 The DPA is working with the Darebin Creek Management Committee to secure funding and support to develop a concept plan for a new catchment environment and education centre in the parklands. The new centre was a priority recommendation of the Banyule and Darebin Council funded parklands master plan. We staged a highly successful workshop with all of the councils from the catchment, Melbourne Water and Northcote MP Fiona Richardson in 2010. Now, we are working to secure in principle support from catchment councils for a funding bid to the State Government's Community Support Fund.
History of the parklands and DPA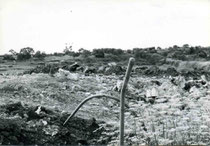 Darebin Parklands: Escaping the Claws of the Machine, by author and historian Dr Sarah Mirams, with foreword by Professor Tim Flannery, was launched in November 2011. The book is available from our secure online store.
Improve water quality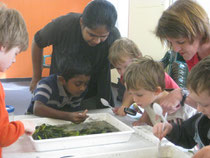 The DPA's objective is to create more native habitat so that more animals, including platypus, can live in the parklands. Helping to improve the water quality of the creek is a big part of this. We undertake a range of projects including running Junior Ranger Club activities like Catch a Carp Day and Junior Ranger water pollution action day (run in conjunction with North East Melbourne WaterWatch), which includes painting anti-pollution platypus stencils on drain covers around the parklands.
We have also had guest speakers at our information evenings, including Julia Vanderoord, WaterWatch officer with North East Melbourne WaterWatch, to help us learn more about the issue. We have also staged four succesful post-flood clean up days in 2011 and 2012.
Monitoring of dog areas
The DPA serves on Darebin Council's dog access reference group, along with other organisations including Darebin DOG's.
Strategic revegetation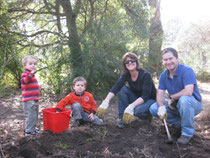 In 2010 the DPA finished a major revegetation project along the darebin Creek, on the Ivanhoe Floodplain. The $11,000 three year project, funded by Melbourne Water with support from Banyule Council, saw creek bank stabilisation works and planting of 10,000 native grasses, groundcovers, shrubs and trees. Community groups including Global Club, local schools and Darebin DOG's assisted with the work.
In 2011 we started work on our new project site, around the Clifton Bridge in the parklands.
We work with the parklands' rangers and plant appropriate indigenous species as part of our goal of creating more native habitat in the parklands.