News
Latest news
Creek floods made worse by development- Northcote Leader, 29th July, 2015.
We made the paper this week! We are hoping to win a Leader Local Grant to buy some plants to stabilise the eroding creek bank. On Monday we will know if we have made the cut and then we will be asking you to help us to win the grant by voting on the Leader website. Read the article.

Our latest Action Plan
Every three years the DPA undertakes an extensive member consultation process to revise our three year strategic plan. This means that members have a say on which projects we undertake, and also get to give feedback on their priorities.
As part of the process of developing the 2012-14 Action Plan we held a workshop with members to generate ideas, and then ran an online survey, completed by around 70 people, to get further feedback. 
The 2012-14 Action Plan has now been formally accepted by the membership (at our AGM in May 2013 - see "Key Documents") and represents the strategic directions for the organisation over this three year period. 
Although the plan cannot be changed now, we also have an activities progress report document (see "Key Documents") that not only outlines our progress against the Action Plan, but also allows us to add new activities as required.
We are always keen to receive feedback from members about activities they would like the DPA to undertake.
Major sustainability award for DPA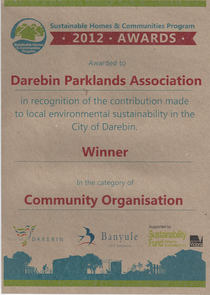 The DPA is honoured to be named winner of the community organisation section of the Darebin Sustainable Homes and Communities awards.
The award is very much a tribiute to all of those who have worked so hard over decades to transform a weed-infested horse paddock and former tip into the delightful conservation park we have today.
More information about the awards is at www.sustainablecommunities.vic.gov.au/awards