Forthcoming events
2020 Junior Ranger / family activities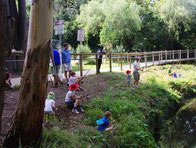 During the year we are holding several events for our Junior Rangers.  Please note that these are events for members and a parent/adult guardian must be present to supervise children at all times. Some events have limited places and you would need to book when invites go out.
Dates for 2020:
Sunday 22nd March (9am - 12am) - Fishing Day along the creek.  Always a popular event.
Saturday 18th April (7pm)  - Dream Puppets "Dreamer in the Deep - Black Light Show)
End June / Early July - Wildlife Victoria & learn how to make a  Joey Bag
Weeknight in August - Spotlighting with the Parkland Rangers - meet those animals that come out after dark!
November - Gum leaf art - decorate your own gum leaf (for a Xmas card?)
2020 Park Care Days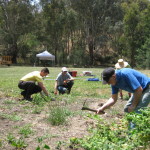 Members are invited to join the rangers and assist in improving the Parklands - usually planting but sometimes a little weeding.  Tools and gloves provided, just bring yourself or the whole family!  More details are provided on our website closer to the date, so please check in case the location is changed!
Dates for 2020:
Sunday 17th May (1pm - 3pm)   - Zeroland : infill planting
Sunday 7th June (1pm - 3pm)  - Mount Puffalo : infill planting
Sunday 26th July (1pm - 3pm)  - Zeroland : infill planting
Sunday 16th August (time TBC)  - Join the Darebin Sweepers to assist with their work,
2020 General Meetings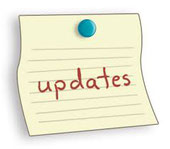 Open to all members and non-members, our regular meetings are a chance to meet the rangers and committee members and find out what is happening in the Parklands. We usually have a guest speaker and this is always very informative.  Once a year this meeting is the AGM and gives you the opportunity to vote on proposed rule changes and elect officers for the next year.  Meet in the Education Centre (next to the Ranger's hut) at the end of Separation Street.  Meetings commence at 7.30pm.
Dates for 2020:  (all details are provisional and will be confirmed nearer the dates).
Tuesday 31st March - General meeting with a focus on building resilience into the Parklands for a drier climate.
Tuesday 26th May (AGM) Speaker to be confirmed but possible someone from Wildlife Victoria.
Tuesday 25th August  General meeting.  Speaker to be confirmed nearer the date.
Tuesday 24th November  Celebrate another year in the Parklands with our annual end of year BBQ at the Rangers Hut.